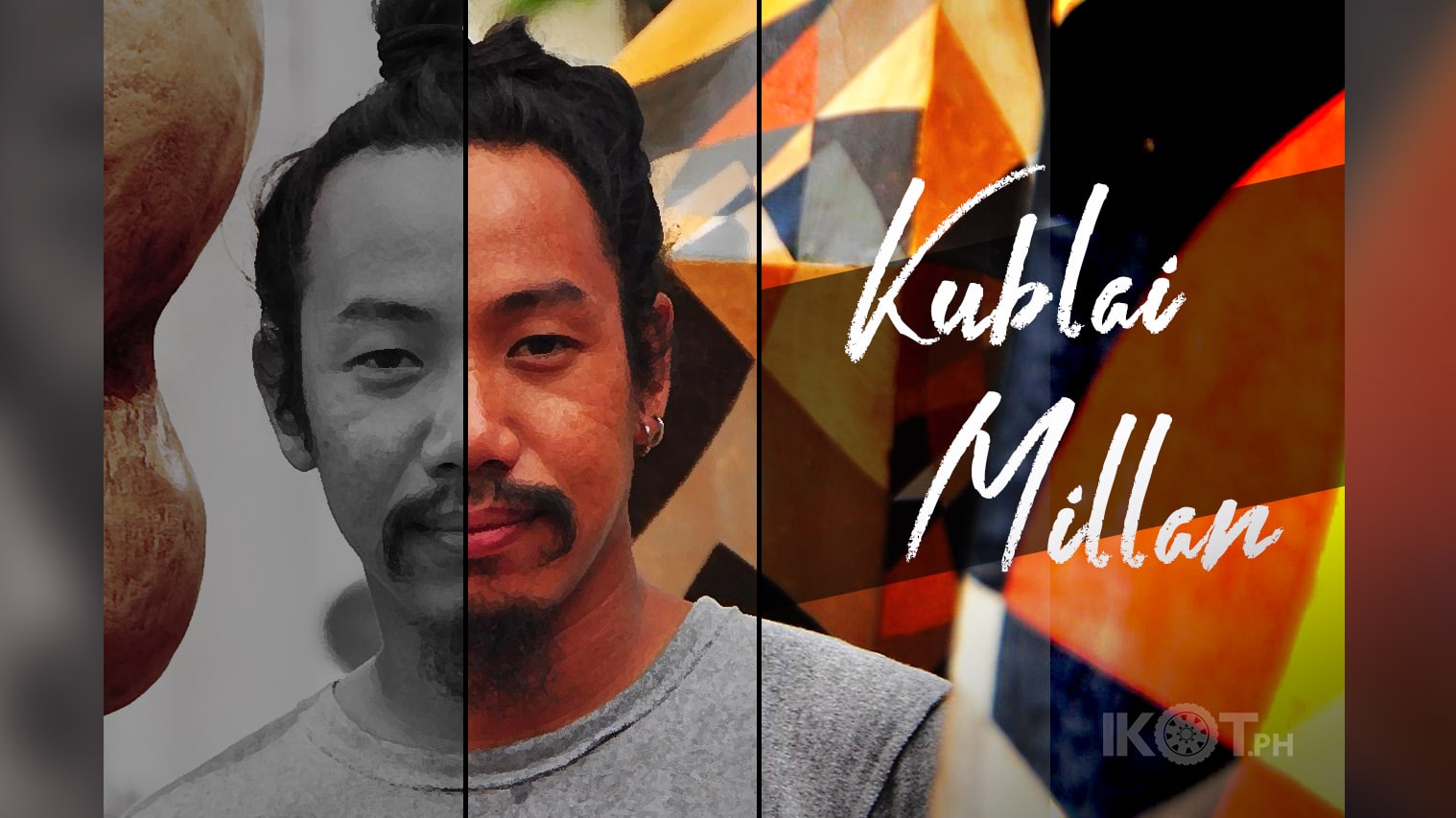 By Sherwin Cy
"My source is endless, as an artist. In my search for the heavens, I have to look down instead of looking up. Down to Earth is my way up to heaven. Mindanao, amongst islands, is the closest to Earth. "
Art is an essential element of society. It depicts life, culture, and state of mind when words fail to give justice to them. It is also meant to disrupt and poke the minds of onlookers – provoking thoughts and questions. This is true with Kublai Millan's art. A prolific Mindanawon artist who chooses to find peace and happiness through his roots.
Big, culturally-inclined, and conspicuous. If these words were to describe Kublai's art fairly, these would be those. As an artist, he centers his art by creating larger-than-life pieces of art so that people would pay attention and think about the core message of his art.
"Everything we do has to do with children. If children are not included, it makes no sense."
When you visit Kublai's facebook page, you'd notice that under his name, "Father" comes first before his other titles. This could be one of the reasons why the staple subject of Kublai's sculptures and paintings is children. For him, children are our best teachers. Their genuine and unadulterated nature creates an image of peace. They are a staple source of loving energy that Kublai picks up in every artwork.
Fusing children, the concept of peace, and culture send a strong message about the importance of inculcating rootedness at a very young age. After all, the children of today are the bearers of our culture. Without them, and without teaching them our culture, we lose our chance to safeguard our identity, who we are as a nation, and what stories have to be told in the future generation.
Kublai showcasing Mindanao
Anyone who has flown to Davao City may have already seen the giant Durian sculpture in the Davao City International Airport. Born in Cotabato City, Kublai chose to go back to Mindanao in 1999 after studying and working in Manila as a graphic artist. He journeyed to find peace in the place that gave him his identity and individuality.
He knew that with so much violence and injustices, people have to fight for a better representation of Mindanao. And fight, he did, to this day – through art. The Durian sculpture in Davao is one exemplary representation of how peace-loving Mindanao people are. The sculpture symbolizes that despite our differences, beliefs, and culture, we are all fruits under one tree – nurtured by nature through the same roots – defining our humanity.
Where do you see peace?
"…to vibrate from within, you have to hit yourself hard to create the most beautiful sound."
Kublai's large sculptures and colorful paintings' core is peace. Through the candidness of children, he expresses a message of peace. Through cultural connections and harmony, he creates an image of peace. His art sends a message that may suggest where we can find peace when we lose it – deep inside us.
His art is not just a reflection of what we should and could have. They are concrete symbols of what one has to do to find peace. When you stand right in front of a Kublai sculpture, it will make you wonder if the spot where you are standing is your starting point. And that in every step you take closer to it, you get closer to peace – an exact parallel of our journey to find peace.
Challenges are meant to challenge
When the COVID-19 Pandemic started causing seismic disruptions across the globe, artists were not spared. But with Kublai's unfailing determination to make art, it became possible, not just for him, but also for other Mindanawon artists to showcase their talents. Together with Lawig-Diwa, they managed to create a bigger space and audience for Mindanao art.
Staying true to its nature, MindanaoArt created a successful stream of hope to connect art with more people through a different platform. With technology helping to make things possible, their collective community art reached more artists and people, becoming one of the biggest artists conventions in Mindanao and Southeast Asia.
Kublai may still be in his journey towards peace and connecting people. But as he optimistically said, "Your rootedness is your source of happiness. The fountain of life will always flow through me." The blood that runs through his veins empowers him to take care of his passion. When one takes care of his passion, passion takes care of him, in return.
Check out the video collection of Kublai's art : https://www.facebook.com/watch/?v=194813229247808
Source: https://www.ikot.ph/finding-peace-in-rootedness-kublai-millan/